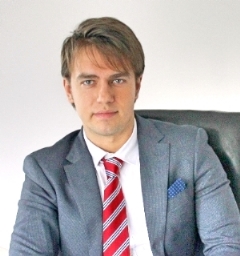 Founder, Polish and Spanish attorney at law, member of the Bar Council in Barcelona (Spain) and Wroclaw (Poland).
Specializes in civil law, commercial law, company law, trading in receivables and debt collection, intellectual property law, but he has also practiced in other specialized areas of law, such as, among others, transport law, pharmaceutical and telecommunications law.
He has extensive experience in providing legal services to financial institutions and companies, including providing legal services to company bodies and restructuring of companies and debt collection.
He has provided legal services, among others to banks, insurance companies, automotive, construction and telecommunications companies.
Polish law graduate from the Faculty of Law and Administration at Łazarski University in Warsaw and Spanish law at the Francisco de Vitoria University in Madrid (Polish and Spanish Master of Laws).
Graduate of the Department of Pharmacoeconomics, Pharmaceutical Marketing and Law at Warsaw University of Technology Business School (postgraduate).
He has completed numerous training courses in Poland and Spain, among others, in negotiations, debt collection and finance.
He has worked in international corporations as well as Polish and Spanish companies, including Orange and Telekomunikacja Polska (Legal Service Specialist), Intrum Justitia (Legal Service Specialist), Bumar (Company Bodies Support Specialist), and (as a lawyer) in Warsaw law firms.
He represents clients in Poland and Spain.
Selected publications: Protection of a clinical trial participant.